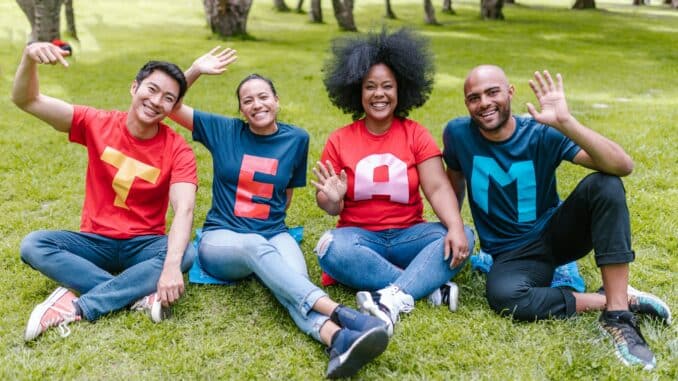 Nowadays there are very many games that can be easily executed with online access. Even professionally, team building games, virtual team building events or strategy games can lighten up the atmosphere. If each player (m/f/d) has the same requirements to be able to download the game, or take hints, team experiences can also take place in this form.
Strong teams can also benefit from team building exercises; they are a great way to improve communication, morale, motivation, and productivity. They help employees or new teams get to know each other better and learn about their strengths and weaknesses. Team building games and activities can be used by any business, large or small, to promote better teamwork in the workplace. As most business owners and managers know, good teamwork is one of the key factors to a company's success.
There are four main types of team building activities, which are:
Communication activities

.

Problem solving and decision making activities

.

Adaptability and planning activities

.

Confidence-building activities
The idea is to conduct various activities that are fun, challenging, and have the "side effect" of building teamwork skills, which in turn can improve employee performance and productivity in the office.
Why team-building activities are important
.
Team-building activities not only offer a fun and creative alternative to happy hour (where people who don't drink alcohol can feel left out), but they also provide many additional benefits to companies and employees.
First and foremost, teambuilding activities help employees get to know each other – their interests, their strengths and weaknesses, and their communication skills, to name a few.
Just as any professional sports team works and trains with each other to perform their best, teams in the workplace can and should do the same.
.
And just as you can't take the field with a team that has no idea who's playing what position, who's passing the ball to whom, and who can best handle situation XYZ, you can't accomplish anything if team members don't understand each other.
Team building activities also foster camaraderie and trust – one of the most important aspects of a successful team.
When people lack trust, they hold back, sometimes limiting their abilities.
.
Finally, team-building activities can help remind employees that work is never just about them, but about the entire group. Being encouraged to do something together rather than alone brings to life the idea that the success of the group (and ultimately the company) should be paramount. This can be a particularly useful learning experience for teams that have difficulty with teamwork, are overly competitive, or lack unity and trust due to a bad manager or difficult times.
Online mystery games for multiple players
.
There are different online mystery games and escape rooms for different situations and difficulty levels. One example is the mystery dinner, which is very popular. The mystery dinner can be played on tablet, smartphone or laptop, via video chat via Skype, Zoom or similar. In the game, all participants receive their access link, role description and secret clues. With an access code, hosts can also create digital mystery dinners themselves. Teammates receive some, secret game documents via link. A scenario for the mystery game consists of the following basics:
a shared meal, which is best for building a sense of community

.

the video conferencing software is to be tested in advance that the technology works

.

each teammate needs their own device to retrieve game materials

.

the role names are determined in advance. Everyone knows who plays which role

.
There are technical and organizational tricks. Since Covid-19, there is a support code attached to the crime games. With the support code, a maximum of one game round can be created. Individual access links can be distributed via WhatsApp, email or SMS. Hosts can also play along. There are also mystery games with live actors or mystery games for home for people who like these games. For guessers and mystery fans, these games are interactive and memorable experiences.
Conclusion
.
Team building activities have become an essential part of corporate culture. If a company is to thrive in today's world, the first and foremost requirement is a culture of teamwork within the organization. When all employees come together and work in sync, we can say that the company is moving in the right direction.
Whether you prefer to digitally reenact a whodunit or organize a scavenger hunt, digitally many things are feasible nowadays and evolve with the wishes of the participants. Team events and games encourage creativity. Theater and acting elements are also in high demand.