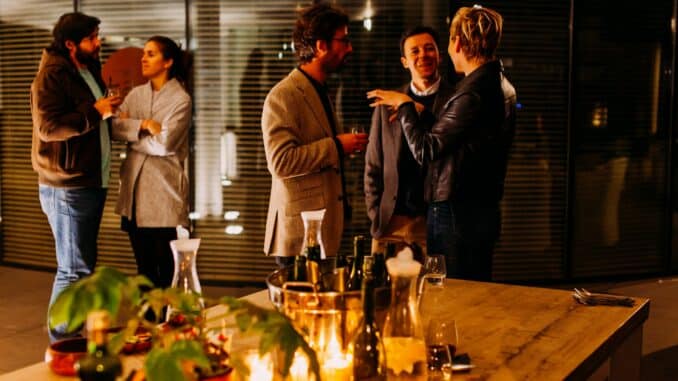 According to recent data, one-third of companies don't plan to host a traditional office Christmas party this year because they fear legal action over drunken guests. While I can safely say that workplace safety is much more at risk during a party than during the rest of the year (most workplaces simply aren't designed for that level of snacks, alcohol and cheesy music), with a little forward thinking, workplace Christmas parties can return to what they once were – without the dark cloud of lawsuits hanging overhead. Still, it's necessary to keep preventative measures for health and safety at work in the background – no one likes the concept of constant red tape when they're trying to relax. Already, more than half of managers surveyed just recently felt that the celebratory mood felt downright "forced."
Here are 5 workplace health and safety measures you can take to reduce the risk of a post-party procedural hangover.
1) Leave the workplace
.
The most convenient way to avoid the legal minefield of workplace health and wellness laws is to move the party out of the office! As I mentioned earlier, the normal workplace, with its computer systems, coolers and offices, is simply not designed for the antics and silliness of the clichéd workplace Christmas party. Booking a restaurant or hotel may seem like an unnecessary expense in the short term, but the different environment will help attendees relax and enjoy themselves, and your precious copier won't be damaged by an exhibitionist office clown!
2) Leave out the mistletoe
.
This point has less to do with health and wellness and more to do with employment law, but one of the biggest issues for legal action is the concern about unwanted sexual advances in the work environment. And while mistletoe is a popular decoration, sometimes it can actually cause trouble. By removing mistletoe from the list of decorations, you limit your responsibilities if someone feels harassed or intimidated – remember, if you fund the party, it still falls under office rules, including those related to sexual harassment.
3) Watch out for risks
.
Here's a bizarre statistic: In 2019, 1,000 people were injured by falling Christmas trees. This shows that there are dangers everywhere, especially when the alcohol is flowing. If you can't plan on spending money to set up the workplace somewhere else, make sure you're not creating problems where there were previously no health and wellness hazards in the workplace. Common Christmas office safety pitfalls can be quickly avoided: Don't allow people to sit on work chairs or desks to put up decorations, and don't allow fire hazards like Christmas lights to be hung from computer systems or vents. Also, make sure that typical emergency situation information is not obscured by blatant decorations – even if that means no room for the latest life-size reindeer design – office health and wellness laws must come first!
4) Watch the alcohol
.
Not surprisingly, many supervisors are horrified by the workplace health and safety controller's problem: the combination of alcohol and costly workplace equipment. Fortunately, there are steps you can take to limit the potential for harm and increase workplace safety. It's common knowledge that alcohol is most potent on an empty stomach, so have some food. Salty treats are less advisable because they create thirst, which can be counterintuitive for the alcohol-shy manager. A good way to control the alcohol a little more is to make your own punch – the alcohol content is then up to you, and the fruit juice in it causes the alcohol to be absorbed into the bloodstream a little more slowly.
5) Rely on transportation
.
Booking cabs or providing sleeping accommodations for revelers may seem like an unnecessary expense at the end of the night, but the cost is far less than the danger they would put themselves in by drinking and driving, or the damage to the company if they sue over a mishap on the way back home. And the extra cost is all in the spirit of Christmas!
As you can see, there are a few things to consider. So that you too can enjoy and relax a little at your next company event, why not leave it in the hands of professionals? You will find a professional and reliable partner from NRW at CG Events from Bochum. You can find more information with a click here.